"LSPY" acrylicpaint/oneq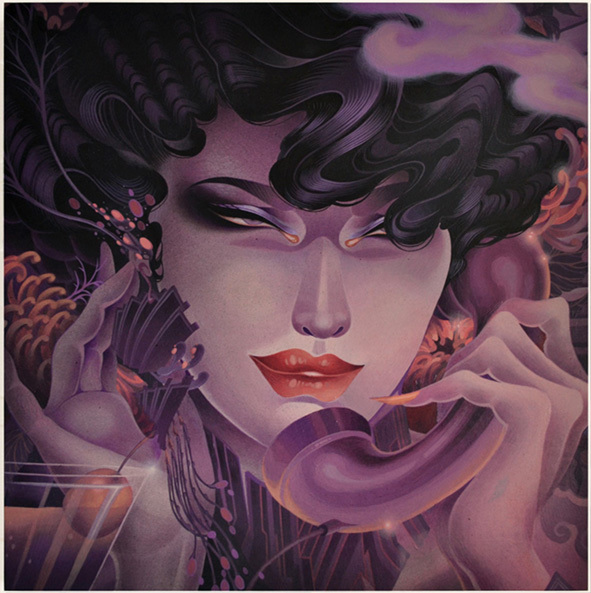 Title "LSPY" size 24×24×1 inch/acrylic paint, spray, wood panel.
<collector's preview please email to sherri@coreyhelfordgallery.com>
"Uzume" opened at the Corey Helford Gallery in LA. I made 4 pieces newly for the "Uzume" of mini show this time.
Show name "Uzume" is the goddess of performing arts that appears in Japanese mythology and is also the oldest dancer in Japan. In the myth [of the sun goddess], the gods decided to work out a way to bring the goddess Amaterasu out of her hiding in a cave [the Cave of Heaven]. Uzume, goddess of the arts, danced an enthusiastic dance to lure the hidden Amaterasu out of the cave, creating a lively air and safely inviting Amaterasu to the outside and she succeeded. In that mythical episode, I was fascinated and inspired by her unique solution to things that combined her dynamic, wild and feminine intellect.
[The maidens in my work] are fictional characters I made up, but like Uzume, they portray everyday scenes of women who are searching for their own solutions and pondering. Japan, where I live, has a culture that emphasizes cooperation. It is called "wa" (和 English: harmony). Of course, there are many aspects of "wa", but from an early age, women in particular live in an atmosphere that favors cooperation and obedience. Growing up in that environment, I am strongly attracted to the anger, strength, and hidden wildness of women, and I express that hidden wildness as a new form of intellect.